City Hatters
Audience: 20-40 year old men and women
SMP: Make a hat part of your personal brand.
Insights: Music can be fundamental part of one's personal brand.
- Different types of hats have a certain moods and 'hattitudes' associated with them.
Idea: How it feels to wear a hat.
A virtual hat-wearing experience that uses the music associated with certain styles of hat to simulate the feeling one gains from wearing a hat e.g. Bucket Hats and the 90s; Cloche hats and the roaring 20s; and Akubras with rural Australia.
To do this, playlists would be created on Spotify and Apple Music, and then promoted through City Hatter's owned social media channels (Facebook and Instagram) and sponsored articles on youth media websites like Pedestrian.TV, Buzzfeed and Junkee Media.
Why? The playlists connect to the heritage of City Hatters; highlights their variety of products in an unexpected way via a digital channels; and encourages repeat brand interactions with the audience
Massel Stock Powder
Aim: Increase Massel Stock Powder's brand awareness and sales
Audience: 27-45 years old foodies who want food that's quick, healthy and tastes homemade
SMP: Full Flavour, No Fuss
Insight: Massel Stock Powder Massel Stock Powder is vegan, gluten free, uses natural GMO free vegetables, and is free of artificial colours and flavours, cholesterol, MSG and transfats.
Execution: Metrolite Scamps
The chickens and cows would be made up of vegetable pieces
Execution: TVC Storyboard
Officeworks
Objective: Make Officeworks first choice for students purchasing uni materials and increase repeat purchases from students.
Target Audience: Australian University Students. 18-24, international and domestic, low personal income, frequent social media user and currently already shop at Officeworks.
SMP: Officeworks simplifies the student experience
Campaign Timing: O-week period
Briefing Agency: Columbus
Execution: Chatbot
A Facebook Messenger chatbot that would let students list the uni supplies they need to buy from Officeworks, provide locations for their desired items in their chosen store and provide reminders to pick up the items before classes begin.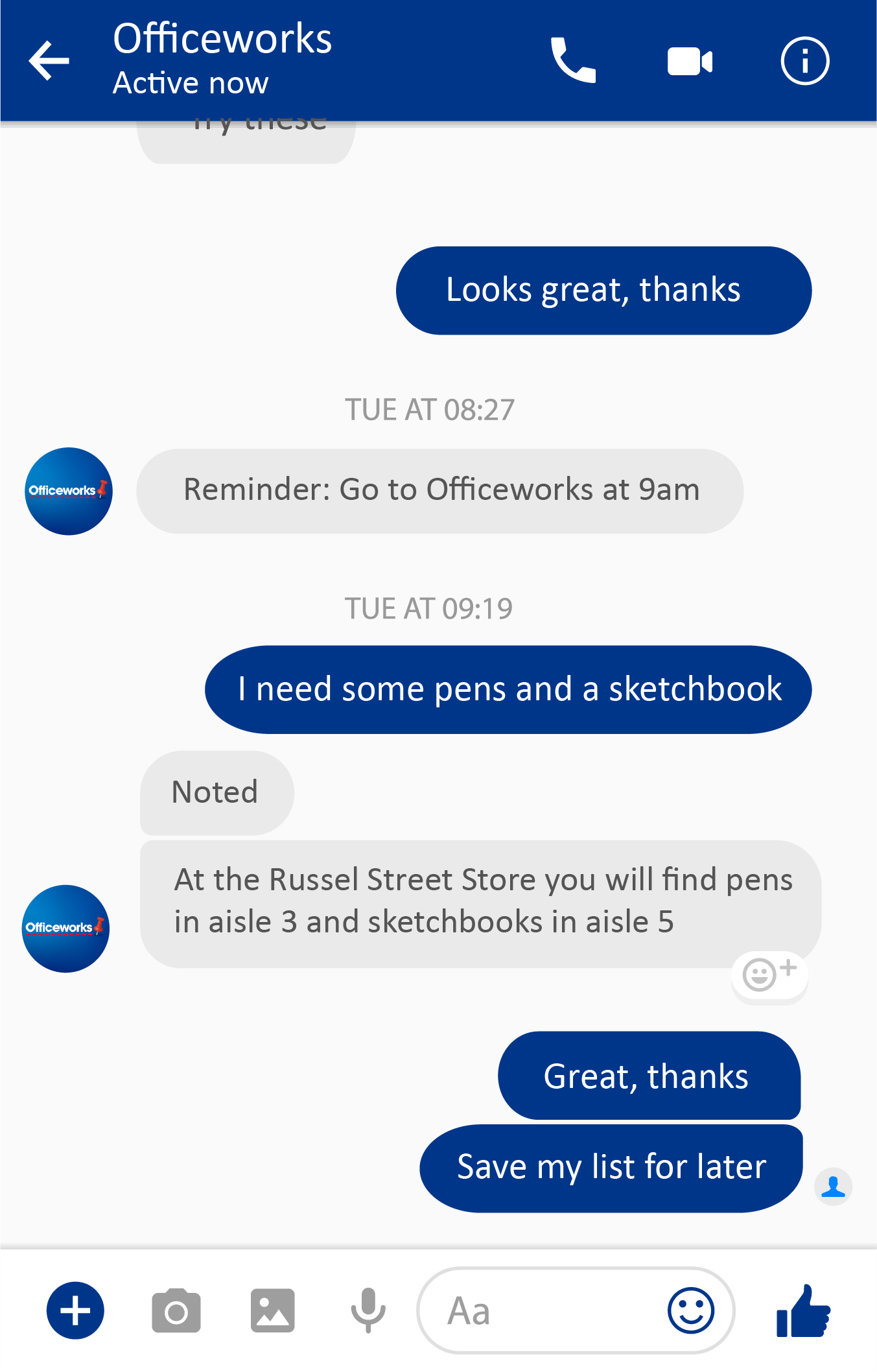 Execution: Student Discount
Partner with Unidays, a student discount site, to provide a short-term discount (10-20%) for students during the O-week period (Feb 19-March 11) for both in-store and online purchases.
CBUS Superannuation
CBUS, Australia's largest building and construction industry superfund, wanted to encourage young tradies, who move from job to job and could have multiple funds due to employer preferences, to only use CBUS by showing its members that the brand there for them.
Target Audience: Building and construction workers under 30 who don't care about superannuation but will regret this decision in the future when they have kids and can no-longer do the same physical labour.
SMP: We are here for you
Campaign Timing: December - February
Briefing Agency: Haystac.Content
Execution: Talk to a Mate
Talk to a Mate would be a dedicated section on both the CBUS web portal and member app, that would provide members with resources and contacts in their local area (done through post code) for support services like Mates in Construction; physio therapists; doctors; psychologists; therapists, counsellors; alcohol, drug and gambling support services; financial planners; legal advisors; and other support providers.
These providers, if payment required, would be at a discounted rate for CBUS members to incentivise tradies to get help in times of trouble and give them a greater quality of life
Execution: Facebook Messenger Chatbot
In order to reach and help CBUS' members during rough periods, a Facebook Messenger Chatbot would be used to act as an artificial confidant when a tradie feels like they can't talk to their own friends or family about the issues they are facing.
The chatbot would take into account what is being said and would help the user talk through their problems, suggest resources and services to help the user and periodically check-up on them to make sure that their ok.
Execution: Facebook Posts/Videos
Short videos of tradies (under 30 y/o and CBUS members) talking about their experiences with physical and mental health issues like suicidal thoughts and alcohol abuse, and how services like Mates in Construction have helped them through would be posted onto the Facebook page. The posts would begin during the quite Christmas period to help reduce the stigma and encourage talking about personal problems.
Travel Accident Commission
Purpose: To reduce the number of young people dying on Victoria's roads.
Target Audience: Young drivers who underestimate the risks of driving, are constantly distracted by technology and who have become desensitised by previous TAC campaigns featuring crash scenarios.
SMP: There are better things to do than die on our roads.
Concept: Create a short 1-1.5 min, sharable 'Buzzfeed-style' video for Facebook and Instagram to draw in young viewers and make them think about the risks and their distraction while driving.
Briefing Agency: McCann Melbourne